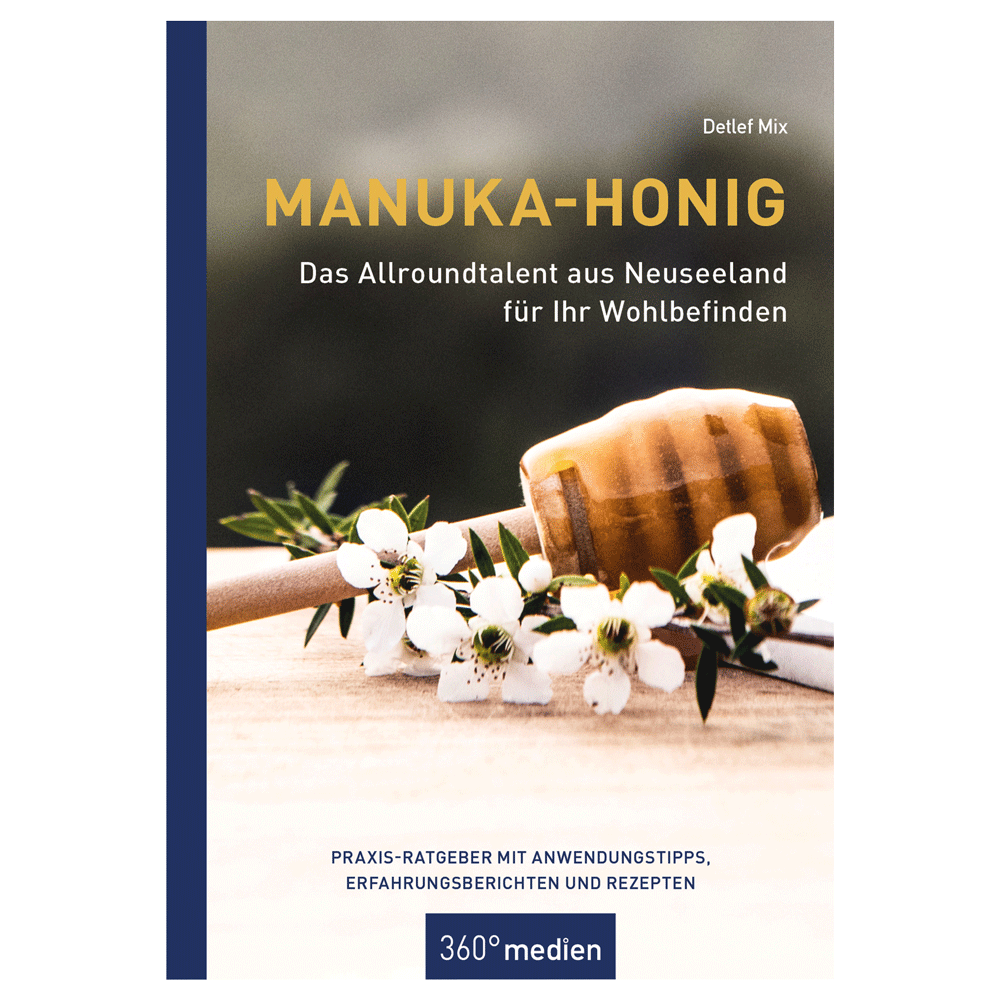 Guidebook with all the important information and important knowledge about the special and beneficial properties of New Zealand Manuka Honey. Includes practical examples, application instructions, testimonials, recipes and much more.

For the entry into the world of Manuka Honey or the expansion of knowledge about Manuka Honey.
Translation missing: en.products.product.price.regular_price
€7,95
Translation missing: en.products.product.price.sale_price
€7,95
Translation missing: en.products.product.price.regular_price
Inclusive taxes.
Estimated delivery time:Sep 25 - Sep 29

Free shipping from 25 € within Germany.
Product description
Product information
Usage
Shipping information
"Manuka Honey - The all-round talent from New Zealand for your well-being".
Immerse yourself in the world of New Zealand Manuka Honey and expand your knowledge of its special and beneficial properties and learn everything important about Manuka Honey in the book "Manuka Honey - The all-round talent from New Zealand for your well-being" by Detlef Mix.
Both the positive properties of Manuka Honey on the well-being, as well as application recommendations, recipes, field reports and many other important and interesting information about Manuka Honey are described in this book on 128 pages.
As the book description on the back explains:
"Manuka Honey, extracted from the nectar of the New Zealand South Sea myrtle, has amazing antimicrobial, anti-inflammatory and
healing properties. It is suitable for internal and external use.
This book in its practical format offers a wealth of information application tips as well as field reports and helps you to use the precious Manuka Honey with feeling and understanding as effectively as possible.
A small selection of recipes as well as tips on how to buy Manuka Honey without counterfeiting round out this guidebook."
You can order this guidebook from the comfort of your own home in our Manuka Health online store.
Title of the book: "Manuka Honey - The all-round talent from New Zealand for your well-being".
Author: Detlef Mix
Number of pages: 128 pages
Publisher: 360° medien
Edition: 1st edition
<tc>Ideally suited for Manuka Honey beginners as well as to expand the knowledge of Manuka Honey.</tc>
Delivery time: 1-2 working days
Order Mon-Fri until 14:00 - then the shipment usually takes place on the same day.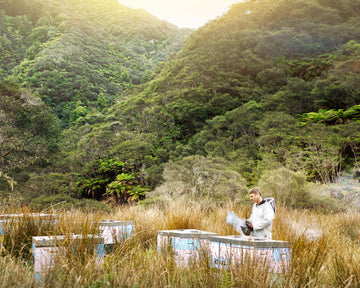 Mānuka Honey from New Zealand
Manuka Health is committed to the purest quality.
From the hive to harvesting and processing to the product: we monitor the entire processing procedure with the utmost care in our own production facilities in Aotearoa, New Zealand. This is how we guarantee premium bee products of certified quality and the highest grade.
Mānuka Health Honey Quality Promise
Guaranteed MGO content
All MGO Manuka Honeys are certified for their MGO content according to the method developed at the TU Dresden and bottled in their original form.
To ensure the absolute integrity and purity of our precious Manuka Honey, we have a rigorous quality testing process that includes microbiology, toxins, sugars, pollen, moisture content, flavor, color and enzyme activity.
Because our hives are located in the wild - remote, pristine environments outside of agricultural areas - there is very little risk of herbicides and pesticides being present in the environment. To be absolutely safe, we routinely test our honey for pesticides and herbicides, including glyphosate residues, to ensure that the honey that leaves our packaging facility is of the highest quality and food safety and contains no contaminants.
Mānka Health Honey Beekeeping
Care from the harvest to your home
Experience and knowledge around the craft of beekeeping as well as gentle processing characterize products from Manuka Health. This is how we ensure that the valuable ingredients are preserved in their purest and most active form.
Scientific tests guarantee the highest quality of our bee products. We test every honey for authenticity and ingredients - both in the raw state and in the finished product. In this way we guarantee you the highest purity, authenticity and best quality.
Our honey production facility in Te Awamutu is one of the largest and most modern in New Zealand. The certified quality laboratory, honey storage, blending and packaging - everything is under one roof. This way we guarantee a safe supply chain from the hive to the finished bottled product.